Recognizing Faces
Take a look at these two pictures of George W. Bush: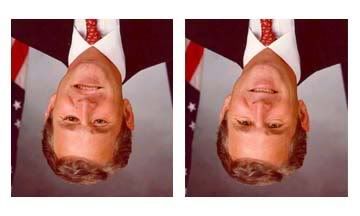 There doesn't appear to be a whole lot of difference between the two, other than that George looks more perturbed than usual on the left.
Now here are the two images again right side up:
The difference is far more striking and obvious when the images are oriented correctly. You can really tell the photo on the left has been altered.
This illusion was first brought up in 1980 by Peter Thompson, a psychology professor at the University of York. Because he used Margaret Thatcher to demonstrate the illusion, the phenomena came to be known as "the Margaret Thatcher effect."
But why does our perception change so drastically when the orientation of a photo is changed? This is likely because facial recognition is very orientation specific. Since we are such social creatures and depend upon facial features for proper emotive communication, facial recognition is a very special function of visual system. The brain dedicates a specific portion of the Temporal lobe (at the very posterior end near the visual cortex) to the task of interpreting faces. Those who have been unfortunate enough to have this area damaged develop an unusual case of agnosia in which only facial recognition is affected. The condition is called prosopagnosia, and that person must rely upon other visual cues to identify people (such as hair color, body shape) and on other cues to perceive their emotional state (such as tone of voice, posture).
I have noticed the Margaret Thatcher effect has applications in everyday life. Check out any popular internet dating or friend-making site like okcupid, myspace, or facebook and you will find many of the profiles feature photos taken at odd angles. This is because it is much easier to take a photo that looks good when the perspective is skewed. Since facial recognition is so orientation sensitive, flaws are far less noticeable at angles, especially at extreme angles. I've noticed this effect when trying to shoot photos of myself with my cell phone. It is much more difficult to capture a good mug shot than an angled shot, and more consideration for lighting must be made. Magazines understand this too, and in almost all head-on photos the "butterfly" lighting technique is used. This involves making the face very well lit (especially with lights positioned head on but with a slightly down ward angle to the model) and ensuring that there is enough lighting to fill in shadows and make textures disappear. This is because any poor lighting, shadows, or flaws are readily recognizable by our visual system when viewing a face head on.
If you are interested in learning more about prosopagnosia, here is a link to the site of someone who has it:
http://www.prosopagnosia.com
If you are interested in visual illusions, here is a good link to follow:
http://www.brl.ntt.co.jp/IllusionForum/basics/visual/index-e.html
Image source :
http://www.wjh.harvard.edu/~lombrozo/home/illusions/thatcher.html